The SBA recently released the PPP loan forgiveness application which provides guidelines on what expenses are eligible for forgiveness. Here's a great video overview of the loan forgiveness guidelines.
In this video, we'll cover what expenses are forgivable along with an explanation of how changes in employee headcount or compensation levels may impact your total forgivable amount.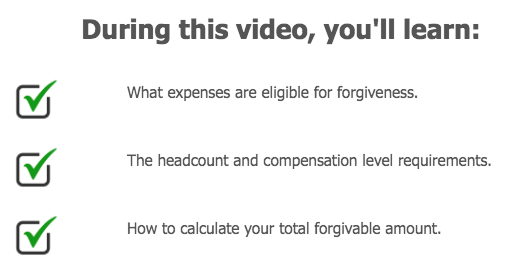 You can also download our whitepaper on the Basics of PPP Forgiveness.
Here is a link to the current loan forgiveness application. Please note that guidance regarding the PPP program continues to evolve and change (sometimes daily) and it is likely that this guidance and application form will change. You should continue to closely monitor and watch for developments.
As you work through these challenging and difficult times, please know that we are available to help answer any questions you might have. We appreciate the opportunity to serve you and wish you all the best.